BlackCAT A Catalog of Stellar-Mass Black Holes in X-ray Binaries
XTE J1720-318
V1228 Sco
( OBrien2003 )

RA [J2000] DEC
[hh:mm:ss.ss] [dd:mm:ss.ss] 17:19:58.99 -31:45:01.11


ℓ b
[deg] [deg] 354.6237198 +03.10128253
Year of discovery: 2003
( Remillard2003 )
# of outbursts after discovery:
Basic data

Distance [kpc]
6.5±3.5
Chaty2006
Distance to the plane (z) [kpc]
0.4±0.2
Chaty2006
Orbital period (Porb) [h]
Peak X-ray flux [erg s-1 cm-2]
[keV]
1.06E-08
[2-10]
XTE/ASM
Outburst magnitude (AB)
Ks∼17.15
Nagata2003
Quiescent magnitude (AB)
E(B-V) [mag]
2.25
Chaty2006
Spectral type
B – G
Chaty2006
Optical/NIR magnitudes

Ks∼17.15




Mag. Quiescent (AB)

Aladin finding chart
Scroll to zoom. Set survey image in "Manage layers"
Default image: DSS2 Red
XTE J1720-318 in Simbad
---
Finding charts
Orientation: North up, East left. Object marked
Click to enlarge in new tab/window

Finding chart reference: BlackCAT image archive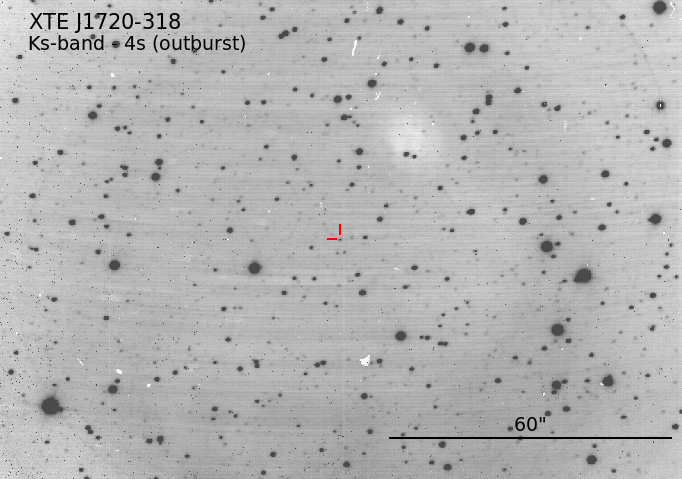 ---
This research has made use of NASA's Astrophysics Data System (
ADS
) and the
SIMBAD
database operated at CDS (Strasbourg, France)
Please
acknowledge
the use of this catalogue in any published work you derive from it.
---
Last modified: 27 August 2021.